What should I do if I suspect a gas leak?
Turn off the gas supply at the propane tank if possible, and contact Ressler Propane.
Can I bury a propane tank on my property?
Yes. Ressler Propane offers 250, 500, and 1,000 gallon underground propane tanks. Burying a tank is a convenient way to store propane on your property, and because propane is a non-pollutant, there is no risk of soil contamination. Learn more about underground propane tanks.
Should I turn off the pilot light on my propane gas fireplace during the summer?
Although leaving the pilot on during the summer will use several gallons of propane each month, it does help to keep dust and insects out of the fireplace, as well as keeping metal parts dry and rust free, which can result in helping to prevent costly repairs.
Is propane a convenient fuel?
Yes. Propane can easily be compressed into a liquid for convenient transportation and storage. When at the point of use the flammable vapors "boil" off in the tank and are distributed to appliances via the gas piping system. Learn more about the convenience of propane.
Is it safe to use a gas vent-free heater?
When used correctly, a propane gas vent-free heater is a safe and efficient heat source. For more information visit www.ventfree.org.
Does my propane heater need to be vented?
Yes. Unless it is specifically designed as a vent-free appliance, it must be vented.
Can I save money by switching to a propane gas water heater?
How often should I have my propane gas furnace serviced?
Most manufacturers recommend having your propane gas furnace cleaned and adjusted every year or before the heating season.
How often should I have my fireplace serviced?
Most manufacturers recommend having your propane gas fireplace serviced and cleaned every year. Ressler Propane offers this service. Make a service request.
In what areas does Ressler Propane offer delivery and service?
Ressler Propane services all Lancaster, York, and Lebanon counties with parts of Dauphin and Berks counties, including: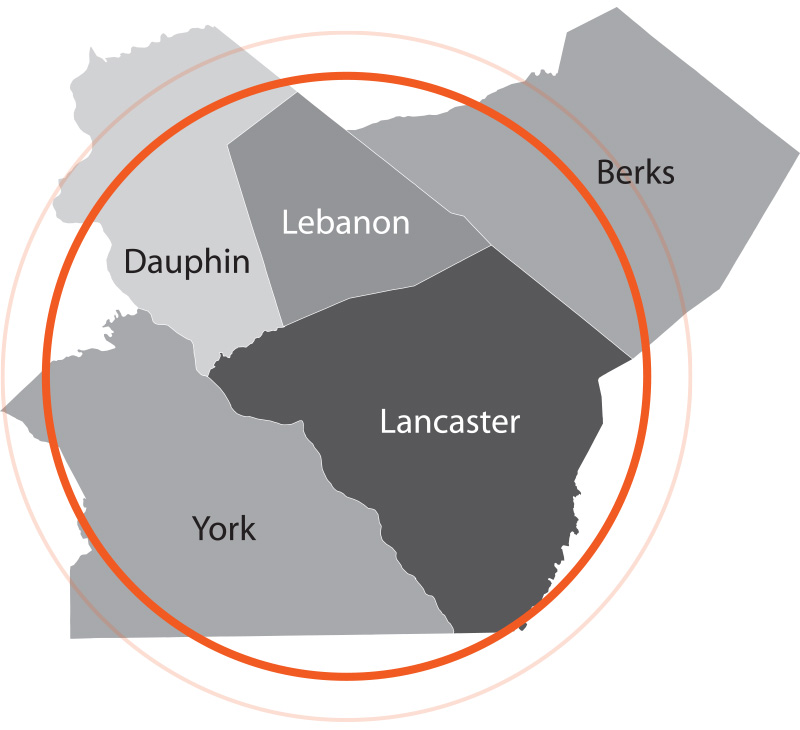 Adamstown
Airville
Akron
Annville
Bainbridge
Bally
Bangor
Bausman
Bethel
Bethlehem
Bird-in-hand
Blue Ball
Brogue
Brownstown
Camp Hill
Campbelltown/Palmyra
Carlisle
Christiana
Columbia
Conestoga
Cornwall
Craley
Dallastown
Delta
Denver
Dillsburg
Dover
Drumore
Duncannon
East Berlin
East Earl
East Petersburg
East Prospect
Elizabethtown
Elm
Enola
Ephrata
Etters
Fawn Grove
Felton
Fredericksburg
Gap
Glen Rock
Glenville
Goodville
Gordonville
Grantville
Hanover
Harrisburg
Hershey
Holtwood
Honey Brook
Hopeland
Hummelstown
Intercourse
Jonestown
Kirkwood
Lampeter
Lancaster
Landisville
Lawn
Lebanon
Leola
Lewisberry
Lititz
Manchester
Manheim
Marietta
Maytown
Mechanicsburg
Middletown
Millersville
Mohnton
Morgantown
Mountville
Mt Gretna
Mt Joy
Mt Wolfe
Myerstown
Narvon
New Cumberland
New Freedom
New Holland
New Oxford
New Park
New Providence
Newmanstown
Nottingham
Oxford
Palmyra
Paradise
Peach Bottom
Penryn
Pequea
Port Royal
Pottstown
Quarryville
Quentin
Reamstown
Red Lion
Refton
Rehresburg
Reinholds
Rexmont
Rheems
Richland
Richlandtown
Robesonia
Ronks
Salunga
Schafferstown
Schuylkill Haven
Seven Valleys
Silver Spring
Smoketown
Spring Grove
Stevens
Stewartstown
Strasburg
Telford
Terre Hill
Thomasville
Washington Boro
Wellsville
West Willow
Williamstown
Willow Street
Windsor
Womelsdorf
Wormleysburg
Wrightsville
York
York Haven
York New Salem